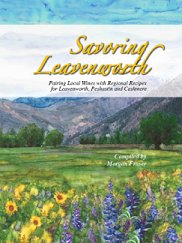 Savoring Leavenworth: Pairing Local Wines with Regional Recipes
by Morgan Fraser
Summary
Morgan Fraser follows up her exquisite wine-pairing cookbook, Savoring Chelan, with her latest release—Savoring Leavenworth, a wine-pairing cookbook for Leavenworth and the Wenatchee River Valley.
Savoring Leavenworth pairs wines from the Leavenworth area with recipes from local chefs and cooks, winery owners and winemakers. Again enlisting the help of photographer Richard Uhlhorn and watercolor artist Kerry Siderius, Fraser's new release showcases all new recipes paired with area wines. Fraser thanks Joanne and Alex Saliby and many other local chefs and winemakers for their expertise and contributions.
Whether your fancy is caught by Butternut Squash Ravioli, Hambleton Hominy, Lemon Crab Linguine, Pineapple Salsa or Wine-Poached Pear Sorbet, Savoring Leavenworth will help you with the tips and touches of our towns best chefs, and tell you what wine to serve with your delightful new creation.
Praise by Joanne Saliby, author of the Wenatchee World's Living Well Blog:
"Many [Leavenworth area] chefs use local products whenever possible to prepare dishes complementary to the local wines. These same chefs, along with winemakers and winery owners, have joined local residents in offering recipes to pair with these wines."
"With Savoring Leavenworth you can prepare many of these dishes at home and enjoy them with the wines you take home with you."
For more information, visit www.SavoringLeavenworth.com
About the Author
Morgan Fraser is a Chelan Valley native whose travel addiction has taken her all over the world in search of new adventures, foods and flavors to pair with wine. Morgan attended Manson High School and grew up on an apple orchard, where she learned to differentiate between store-bought off-season apples and the unmistakable flavor of fresh-picked fruit. After graduating from Washington State University with degrees in journalism and Spanish, she lived, traveled and worked in many countries. Currently Morgan divides her time between Eastern Washington and Mexico. She spends her time writing fiction, non-fiction and travelogues and creating new fusion dishes that pair spice with nearly everything.

Buy a SIGNED copy of Savoring Leavenworth: Pairing Local Wines with Regional Recipes - $34.95