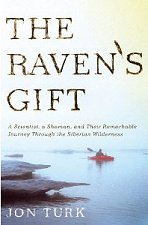 The Raven's Gift: A Scientist, a Shaman, and Their Remarkable Journey Through the Siberian Wilderness
by Jon Turk
Summary
In The Raven's Gift, noted scientist and kayak adventurer Jon Turk undertakes a journey of spiritual healing. Turk has kayaked around Cape Horn and paddled across the Pacific Ocean, retracing the voyages of ancient peoples. But the strangest trip he ever took was his journey as a man of science into the realm of the spiritual.
In a remote Siberian village, an elderly shaman named Moolynaut invoked the help of a Spirit Raven to mend Jon Turk's fractured pelvis. When the healing was complete, Jon was able to walk without pain. Finding no rational explanation, Jon sought understanding by traversing the frozen tundra where Moolynaut was born, camping with bands of reindeer herders, and recording stories of their lives and spirituality.
As Moolynaut introduces him to the "Other World" and the ways it impinges on the "Real World," Turk recalls a long-prior vision from his own experiences: that the margin between life and death depends on a tactile, sensory awareness of the environment that incorporates, but also transcends, logic.
Through Moolynaut and her tribe, the author learns firsthand about the lives of native people in Russia under communism and its successor. Moolynaut explains how they were forced "to move into villages and become 'mouse eaters.'" Turk observes how we are losing a great mass of knowledge with the erasure of the old ways, in this case through communism, and also through modernity as a whole.
Framed by high adventure across the vast and forbidding Siberian landscape, The Raven's Gift creates a vision of natural and spiritual realms interwoven by one man's awakening.
Praise
"A breathtaking glimpse of life in a small, forgotten Siberian village" — Publishers Weekly
"[Jon Turk] proves a sensitive traveler between two worlds ... a moving account" — Kirkus Reviews
About the Author
Jon Turk is the author of twenty-five environmental and earth science text books and two previous adventure travel books. He is a world-class adventurer whose expeditions are backed by Necky Kayaks, for whom he serves as a national spokesman. He writes frequently for many different magazines and alternates his time between Fernie, British Columbia and Darby, Montana.
Buy a SIGNED copy of The Raven's Gift: A Scientist, a Shaman, and Their Remarkable Journey Through the Siberian Wilderness - $27.99