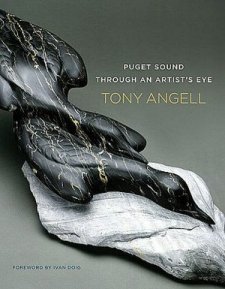 Puget Sound Through an Artist's Eye
by Tony Angell (Forward by Ivan Doig)
Summary
Artist and naturalist Tony Angell has used Puget Sound's natural diversity as his palette for nearly 50 years. He describes the methods he uses in his art and his observations and encounters with the species that make up the complex communities of the Sound's rivers, tidal flats, islands, and beaches: the flight of a young peregrine, an otter playfully herding a small red rockfish, the grasp of a curious octopus.
About the Author
Tony Angell was born in 1940 in Los Angeles, and grew up among the hills and canyons of Southern California. His love of nature is rooted in the afternoons he spent watching birds, collecting plants, building forts and hiking to the far reaches of the Santa Monica Mountains and canyons. He credits his mother Florence, a farm girl from Michigan, with encouraging his artistic and naturalist activities.
Author, illustrator and sculptor, Angell has won numerous writing and artistic awards for his work on behalf of nature including the prestigious Master Artist Award of the Leigh Yawkey Art Museum. His sculptural forms celebrating nature are to be found in public and private collections throughout the country. Tony has worked actively as a board member of Washington's chapter of The Nature Conservancy, is an elected Fellow of the National Sculpture Society, and retired in 2002 as Director of Environmental Education for the state of Washington after 30 years. He lives in Seattle with his wife and two daughters.

Buy Now - $35.00