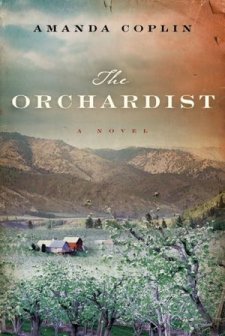 The Orchardist
by Amanda Coplin
Summary
Publishers Weekly's "Top 10 Literary Fiction" of the season and O magazine's "10 Titles to Pick Up."
At the turn of the twentieth century, in a rural stretch of the Pacific Northwest, a reclusive orchardist, William Talmadge, tends to apples and apricots as if they were loved ones. A gentle man, he's found solace in the sweetness of the fruit he grows and the quiet, beating heart of the land he cultivates. One day, two teenage girls appear and steal his fruit from the market; they later return to the outskirts of his orchard to see the man who gave them no chase. Feral, scared, and very pregnant, the girls take up on Talmadge's land and indulge in his deep reservoir of compassion. Just as the girls begin to trust him, men arrive in the orchard with guns, and the shattering tragedy that follows will set Talmadge on an irrevocable course not only to save and protect but also to reconcile the ghosts of his own troubled past.
Transcribing America as it once was before railways and roads connected its corners, Amanda Coplin weaves a tapestry of solitary souls who come together in the wake of unspeakable cruelty and misfortune. She writes with breathtaking precision and empathy, and in The Orchardist she crafts an astonishing debut novel about a man who disrupts the lonely harmony of an ordered life when he opens his heart and lets the world in.
Praise
"...immensely affecting first novel....manages to evoke a world where the effects of two dramatic losses play out within a strikingly beautiful natural landscape." — Publishers Weekly
"Coplin's mesmerizing debut stands out with its depictions of uniquely Western personalities and a stark, gorgeously realized landscape that will settle deeply into readers' bones." — Booklist
"Coplin's lyrical style and forceful storytelling provide many unexpected twists before the poignant conclusion. A breathtaking work from a genuinely accomplished writer." — Library Journal
"...so beautifully written, so alive to the magnificence of the land and the intricate mysteries of human nature, that it inspires awe rather than depression. Superb work from an abundantly gifted young writer." — Kirkus Reviews
"Coplin's saga of a makeshift family unmoored by loss should be depressing, but, instead, her achingly beautiful prose inspires exhilaration…Angelene's final epiphany equals in stark grandeur similar scenes in Emily Bronte's Wuthering Heights and Pat Barker's Another World—heady company for a first novelist, but Coplin's talent merits such comparisons." — The Washington Post
About the Author
Amanda Coplin was born in Wenatchee, Washington. She received her BA from the University of Oregon and MFA from the University of Minnesota. A recipient of residencies from the Fine Arts Work Center in Provincetown, Massachusetts, and the Omi International Arts Center at Ledig House in Ghent, New York, she lives in Portland, Oregon.

Buy Now - $26.99