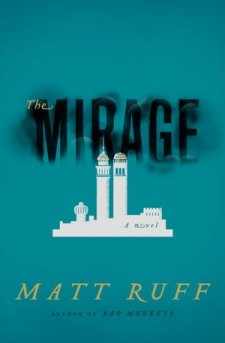 The Mirage
by Matt Ruff
Summary
Matt Ruff, outrageously inventive, award-winning author of Bad Monkeys, Set This House in Order and Fool on the Hill shares his latest release: The Mirage, a mind-bending novel in which an alternate history of 9/11 and its aftermath uncovers startling truths about America and the Middle East.
In a fate-twisting alternative reality, Christian fundamentalists have hijacked four jetliners, suicide-bombing key sites in the United Arab States, who immediately declare a War on Terror. But interrogated suspects insist this is just a mirage—they insist that America is a superpower, and the Arab states just a collection of "backward third-world countries."
While Arab Homeland Security searches for answers, the gangster Saddam Hussein is conducting his own investigation, and the head of the Senate Intelligence Committee—a war hero named Osama bin Laden—will stop at nothing to hide the truth. As our heroes venture deeper into the unsettling world of terrorism, politics, and espionage, they are confronted with questions without any rational answers, and the terrifying possibility that their world is not what it seems.
Acclaimed novelist Matt Ruff has created a shadow world that is eerily recognizable but, at the same time, almost unimaginable. Gripping, subversive, and unexpectedly moving, The Mirage probes our deepest convictions and most arresting fears.
Publisher's Weekly Starred Review:
"Genre buster Ruff (Bad Monkeys) takes the reader through the looking glass into a world where a union of benevolent Muslim states guards against Christian fundamentalist terrorists trying to spread fear and unrest...a suicide bomber from Texas...claims that their world is actually a polar opposite distortion...clever, inventive...a truth that gives Ruff's work a sharp satiric bite.... As the plot thickens, the ideas keep coming, with Ruff revising the history of, among other things, the gay rights movement, David Koresh, and Timothy McVeigh...entertaining and provocative, exactly what the best popular fiction should be."
Ruff's previous novels include Fool on the Hill; Sewer, Gas and Electric; Set This House in Order, and Bad Monkeys. His novels have won the James Tiptree Award, Alex Award, John Campbell Award, two Washington State Book Awards, and two Pacific Northwest Booksellers Association Awards; and Bad Monkeys has been optioned as a TV series. Ruff has received a fellowship from the National Endowment for the Arts and lives with his wife in Seattle, WA. Learn more at www.bymattruff.com.