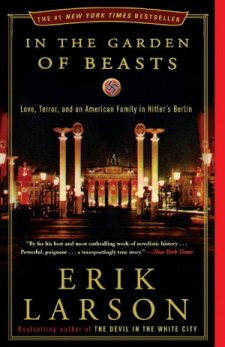 In the Garden of Beasts: Love, Terror, and an American Family in Hitler's Berlin
by Erik Larson
Summary
"Larson is a marvelous writer...superb at creating characters with a few short strokes." — New York Times Book Review
Erik Larson has been widely acclaimed as a master of narrative non-fiction, and in his new book, the bestselling author of Devil in the White City turns his hand to a remarkable story set during Hitler's rise to power.
The time is 1933, the place, Berlin, when William E. Dodd becomes America's first ambassador to Hitler's Germany in a year that proved to be a turning point in history.
A mild-mannered professor from Chicago, Dodd brings along his wife, son, and flamboyant daughter, Martha. At first Martha is entranced by the parties and pomp, and the handsome young men of the Third Reich with their infectious enthusiasm for restoring Germany to a position of world prominence. Enamored of the "New Germany," she has one affair after another, including with the suprisingly honorable first chief of the Gestapo, Rudolf Diels. But as evidence of Jewish persecution mounts, confirmed by chilling first-person testimony, her father telegraphs his concerns to a largely indifferent State Department back home. Dodd watches with alarm as Jews are attacked, the press is censored, and drafts of frightening new laws begin to circulate. As that first year unfolds and the shadows deepen, the Dodds experience days full of excitement, intrigue, romance—and ultimately, horror, when a climactic spasm of violence and murder reveals Hitler's true character and ruthless ambition.
Suffused with the tense atmosphere of the period, and with unforgettable portraits of the bizarre Göring and the expectedly charming—yet wholly sinister—Goebbels, In the Garden of Beasts lends a stunning, eyewitness perspective on events as they unfold in real time, revealing an era of surprising nuance and complexity. The result is a dazzling, addictively readable work that speaks volumes about why the world did not recognize the grave threat posed by Hitler until Berlin, and Europe, were awash in blood and terror.
Praise
"By far his best and most enthralling work of novelistic history.... Powerful, poignant...a transportingly true story." — The New York Times
"Larson has meticulously researched the Dodds' intimate witness to Hitler's ascendancy and created an edifying narrative of this historical byway that has all the pleasures of a political thriller....a fresh picture of these terrible events." — The New York Times Book Review
"Reads like an elegant thriller...utterly compelling...marvelous stuff. An excellent and entertaining book that deserves to be a bestseller, and probably will be." — The Washington Post
"In this mesmerizing portrait of the Nazi capital, Larson plumbs a far more diabolical urban cauldron than in his bestselling The Devil in the White City...a vivid, atmospheric panorama of the Third Reich and its leaders...." — Publishers Weekly (starred, boxed review)
"A brilliant and often infuriating account of the experiences and evolving attitudes of the Dodd family during Hitler's critical first year in power. With the benefit of hindsight, of course, the Dodds seem almost criminally ignorant, but Larson treats them with a degree of compassion that elevates them to tragic status." — Booklist (starred, boxed review)
About the Author
Erik Larson is the author of four New York Times bestsellers, most recently In the Garden of Beasts: Love, Terror, and an American Family in Hitler's Berlin, which hit #1 and remained on the printed list for 35 weeks. Erik's book The Devil in the White City remained on the Times' hardcover and paperback lists for a combined total of over three years. It won an Edgar Award for nonfiction crime writing and was a finalist for a National Book Award; the option to make a movie of the book was acquired in November 2010 by Leonardo DiCaprio.
Erik's research has taken him to far-flung locales, and down innumerable strange alleys. For his 2006 bestseller, Thunderstruck, Erik traveled to London, Munich, Rome, Nova Scotia, and Cape Cod, as he sought to chronicle the strange intersection in the careers of Guglielmo Marconi, inventor of wireless, and Hawley Harvey Crippen, England's second most-famous murderer (after Jack the Ripper). To broaden his understanding of Marconi and his roots, Erik studied Italian; he achieved an elementary grasp of the language while developing an advanced appreciation for Italian red wines.
Erik also wrote Isaac's Storm, published in September 1999. In addition to becoming an immediate Times bestseller, the book won the American Meteorology Society's prestigious Louis J. Battan Author's Award. The Washington Post called it the "'Jaws' of hurricane yarns."
Erik graduated summa cum laude from the University of Pennsylvania, where he studied Russian history, language and culture. He received a masters in journalism from Columbia University. After a brief stint at the Bucks County Courier Times, Larson became a staff writer for The Wall Street Journal, and later a contributing writer for Time Magazine. He has written articles for The Atlantic, Harper's, The New Yorker, and other publications.
Larson lives in Seattle with his wife and three daughters. Numerous beloved rodents are buried in his back yard.