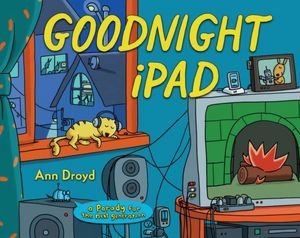 Goodnight iPad: A Parody for the Next Generation
by Ann Droyd
Summary
"Good night remotes and Netflix streams / Androids, apps, and glowing screens .../ Goodnight buzzing, goodnight beeps / Goodnight everybody who should be asleep / Goodnight pop stars, goodnight MacBook Air / Goodnight gadgets everywhere." Ann Droyd, who has been trying to unplug for fifteen years, says, "I sing the praises of powering down, at least for one night, in hopes I might convince myself to do the same."
In a bright buzzing room, in the glow of the moon-and iPhones and Androids and Blackberries too—it is time to say goodnight...
Modern life is abuzz. There are huge LCD WiFi HD TVs and Facebook requests and thumbs tapping texts and new viral clips of cats doing flips. Wouldn't it be nice to say goodnight to all that? Like the rest of us who cannot resist just a few more scrolls and clicks, you may find yourself ready for bed while still clinging to your electronics long after dark. This book, which is made of paper, is a reminder for the child in all of us to power down at the end of the day. This hilarious parody not only pokes loving fun at the bygone quiet of the original classic, but also at our modern plugged-in lives. It will make you laugh, and it will also help you put yourself and your machines to sleep. Don't worry, though. Your gadgets will be waiting for you, fully charged, in the morning.
About the Author
Ann Droyd is the pseudonym for an IRA/CBC Children's Choice winner who has written and illustrated over twenty picture books for young readers. Droyd's work is known for its sense of narrative, humor, and visual playfulness. Ann Droyd, who studied graphic design at Parsons, lives in Massachusetts.

Buy Goodnight iPad: A Parody for the Next Generation - $14.95