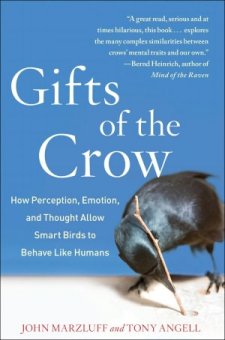 Gifts of the Crow: How Perception, Emotion, and Thought Allow Smart Birds to Behave Like Humans
by John Marzluff and Tony Angell
Summary
CROWS ARE MISCHIEVOUS, playful, social, and passionate. They have brains that are huge for their body size and exhibit an avian kind of eloquence. They mate for life and associate with relatives and neighbors for years. And because they often live near people—in our gardens, parks, and cities—they are also keenly aware of our peculiarities, staying away from and even scolding anyone who threatens or harms them and quickly learning to recognize and approach those who care for and feed them, even giving them numerous, oddly touching gifts in return.
With his extraordinary research on the intelligence and startling abilities of corvids—crows, ravens, and jays—scientist John Marzluff teams up with artist-naturalist Tony Angell to tell amazing stories of these brilliant birds in Gifts of the Crow. With narrative, diagrams, and gorgeous line drawings, they offer an in-depth look at these complex creatures and our shared behaviors. The ongoing connection between humans and crows—a cultural coevolution—has shaped both species for millions of years. And the characteristics of crows that allow this symbiotic relationship are language, delinquency, frolic, passion, wrath, risk-taking, and awareness—seven traits that humans find strangely familiar. Crows gather around their dead, warn of impending doom, recognize people, commit murder of other crows, lure fish and birds to their death, swill coffee, drink beer, turn on lights to stay warm, design and use tools, use cars as nutcrackers, windsurf and sled to play, and work in tandem to spray soft cheese out of a can. Their marvelous brains allow them to think, plan, and reconsider their actions.
With its abundance of funny, awe-inspiring, and poignant stories, Gifts of the Crow portrays creatures who are nothing short of amazing. A testament to years of painstaking research and careful observation, this fully illustrated, riveting work is a thrilling look at one of nature's most wondrous creatures.
Praise
"Although based on extensive academic research, this book about a family of birds known as corvids is surprisingly accessible for general audiences. ...this is far from a dry, academic work. Marzluff and Angell's latest will be enjoyed by anyone interested in nature. Highly recommended." — Library Journal
"...the book will instill in many readers a sense of wonder and curiosity at what these birds can do. An insightful look at some of our surprisingly capable feathered friends." — Kirkus Reviews
About the Author
Tony Angell was born in 1940 in Los Angeles, and grew up among the hills and canyons of Southern California. His love of nature is rooted in the afternoons he spent watching birds, collecting plants, building forts and hiking to the far reaches of the Santa Monica Mountains and canyons. He credits his mother Florence, a farm girl from Michigan, with encouraging his artistic and naturalist activities.
Author, illustrator and sculptor, Angell has won numerous writing and artistic awards for his work on behalf of nature including the prestigious Master Artist Award of the Leigh Yawkey Art Museum. His sculptural forms celebrating nature are to be found in public and private collections throughout the country. Tony has worked actively as a board member of Washington's chapter of The Nature Conservancy, is an elected Fellow of the National Sculpture Society, and retired in 2002 as Director of Environmental Education for the state of Washington after 30 years. He lives in Seattle with his wife and two daughters.

Buy Now - $25.00