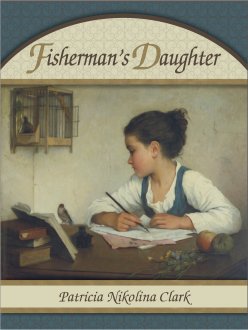 Fisherman's Daughter
by Patricia Nikolina Clark
Summary
Resilience, family, and coming of age: enjoy the latest compelling and uplifting young adult fiction, Fisherman's Daughter, from local author Patricia Nikolina Clark.
From the lives of pioneer families who settled shoreline coves and fished the waters of Tomales Bay comes the tender story of eleven-year-old Katia, her papa, uncles, brothers, and baby sister. Struggling to cope with the loss of her mother, Katia finds comfort in reading and spends her time writing poetry and dreaming of becoming a teacher. But when told she must leave school to care for the family, Katia rebels. She turns to her teacher—the only person Katia believes can help make dreams come true.
Praise
"Clark has done it again. I wish her appealing story of Katia had been available for my girls... this book is simply outstanding." — Bruce L. Foxworthy, author of Making Do and Hanging On: Growing Up in Apple Country Through the Great Depression
"The small cove in Fisherman's Daughter, now preserved within Point Reyes National Seashore, is a lovely place... Written with loving care, Clark's dramatic tale of a young girl's life ... brings the spirit of this isolated beach to life for me." — Dewey Livingston, Marin County Historian and Curator of Jack Mason Museum.
About the Author
Local author Patricia Nikolina Clark has been writing for children for more than twenty years, and her stories and articles have appeared in national publications, including Highlights for Children, Pockets, Spider, and Ladybug. The author of Goodbye Goose and In the Shadow of the Mammoth, she lives in Plain, Washington with her family, Scout the dog, and a cat called Stump.