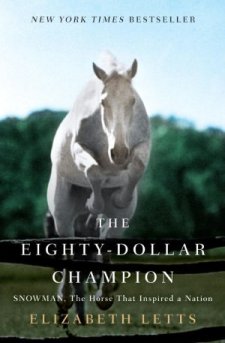 The Eighty-Dollar Champion: Snowman, the Horse That Inspired a Nation
by Elizabeth Letts
Summary
Harry de Leyer first saw the horse he would name Snowman on a truck bound for the slaughterhouse. The recent Dutch immigrant recognized the spark in the eye of the beaten-up nag and bought him for eighty dollars. On Harry's modest farm on Long Island, he ultimately taught Snowman how to fly. Here is the dramatic and inspiring rise to stardom of an unlikely duo. One show at a time, against extraordinary odds and some of the most expensive thoroughbreds alive, the pair climbed to the very top of the sport of show jumping. Their story captured the heart of Cold War–era America—a story of unstoppable hope, inconceivable dreams, and the chance to have it all. They were the longest of all longshots—and their win was the stuff of legend.
Praise
"Letts is a solid prose stylist; her vivid descriptions of Long Island with its 'gentle meadows ringed by dogwood trees' provide virtual tours, but it is de Leyer's realization of the American dream that is the real story." — Publishers Weekly
"Readers skittish around sentiment may balk, but Letts' gentle touch proves entirely suitable to this genuinely sweet tale. A heartwarming story begging for the Disney treatment." — Kirkus Reviews
About the Author
Elizabeth Letts, a practicing certified nurse/midwife, trained at Yale University School of Nursing. A former competitive equestrian rider, she also served as a Peace Corps volunteer in Morocco. She lives with her husband and four children in Baltimore, MD.

Buy Now - $16.00