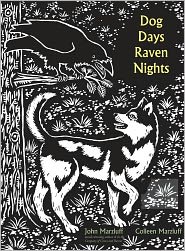 Dog Days, Raven Nights
by John M. Marzluff and Colleen Marzluff, illustrated by Evon Zerbetz
Summary
Twenty years ago, fresh out of graduate school and recently married, John and Colleen Marzluff left Arizona for a small cabin in the mountains of western Maine. Their mission: to conduct the first-ever extensive study of the winter ecology of the Common Raven under the tutelage of biologist Bernd Heinrich.
Drawing on field notes and personal diaries, they vividly and eloquently chronicle their three-year endeavor to research a mysterious and often misunderstood bird—assembling a gigantic aviary, climbing sentry trees, building bird blinds in the forest, capturing and sustaining 300 ravens as study subjects, and enduring harsh Maine winters in pursuit of their goal. They also shared the unique challenges and joys of raising, training, and racing the sled dogs that assisted them in their work.
Accompanied by Evon Zerbetz's lovely linocut illustrations, Dog Days, Raven Nights is a fascinating, behind-the-scenes look at the adventures of field science and an insightful exploration of the nature of relationships, both animal and human.
Praise
"Fascinating and beautifully written book...they have 'opened the door' to future research. And they've opened another door, as hoped, welcoming a wide reading audience too." — The Seattle Times
"An enjoyable chronicle of life in the wilds of Maine." — Kirkus Reviews
"The Marzluffs' story appeals to the adventurer in us all: ... plenty of adventure ... entertaining stories... Despite grueling hours of observation, the Marzluffs marvel at small moments such as raven fledglings mud wrestling..." — Publishers Weekly
About the Authors and Illustrator
John M. Marzluff is a highly regarded scientist known for his work on the ecology and behavioral biology of jays, crows, ravens, and their relatives. His latest research blends biology, conservation and anthropology to understand if and how human and animal cultures have co-evolved. He is professor of wildlife science, College of the Environment, University of Washington, and the author of four books, including In the Company of Crows and Ravens. Colleen Marzluff trained in wildlife biology, worked as a research technician, and is an expert in the raising and training of sled dogs and herding dogs. They live in Snohomish, Washington.
Evon Zerbetz is an artist in Ketchikan, Alaska, living on the flyway of the Bugge's Beach raven pair. She is the illustrator of six books for children and young adults, and she has developed a museum exhibit titled Raucous! Everything Raven.