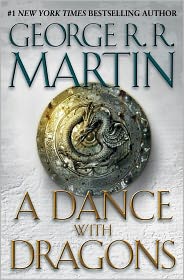 A Dance with Dragons (A Song of Ice and Fire #5)
by George R. R. Martin
Summary
Released July 2011, A Dance with Dragons is the latest in George R. R. Martin's epic fantasy cycle that inspired the wildly popular "Game of Thrones" HBO Series. Dubbed "the American Tolkien" by Time magazine, George R. R. Martin has earned international acclaim for his monumental Song of Ice and Fire epic fantasy. Now the #1 New York Times bestselling author delivers the fifth book in his landmark series—A Dance With Dragons—where both familiar faces and surprising new forces vie for a foothold in a fragmented empire.
In the aftermath of a colossal battle, the future of the Seven Kingdoms hangs in the balance—beset by newly emerging threats from every direction. In the east, a queen and three dragons rule a city built on dust and death. The queen must confront thousands of enemies, one young man out on his own, entirely different quest, and allies who are not the rag-tag band they seem.
Meanwhile, to the north lies the mammoth Wall of ice and stone—a structure only as strong as those guarding it. From all corners, bitter conflicts reignite, intimate betrayals are perpetrated, and a grand cast of outlaws and priests, soldiers and skinchangers, nobles and slaves, will face seemingly insurmountable obstacles. Some will fail, others will grow in the strength of darkness. But in a time of rising restlessness, the tides of destiny and politics will lead inevitably to the greatest dance of all.
With its fierce battle scenes and vivid portrayals, A Dance with Dragons can be read as a standalone, but gains resonance as part of Martin's Seven Kingdoms epic.
Praise
"Mr. Martin writes fantasy for grown-ups, with a blunt and bawdy earthiness…bursting with the wild vision of the very best tale tellers...A Dance With Dragons meets the high standards set by its four siblings." — New York Times
"A few images recur...the chess-like game cyvasse, small rivers flowing into larger ones, ships and armies battered by terrible storms...plots within plots abound...the heart-hammering conclusion hints...a return to the fiery battles and icy terror that earned the series its fanatic following." — Publishers Weekly
About the Author
George R. R. Martin grew up in New Jersey, received his bachelor's and master's degrees in journalism from Northwestern University, served two years in VISTA, and worked as a teacher and chess tournament director before moving to television, where he wrote for The Twilight Zone and other science-fantasy shows. His first full-length novel, Dying of the Light, was nominated for a Hugo Award. In 1996, Martin published A Game of Thrones, launching his acclaimed Song of Fire and Ice epic fantasy series.
During the course of his prolific career, Martin has accrued numerous awards including the Hugo, Nebula, World Fantasy, Bram Stoker, Daedelus, and Locus awards. He maintains a cordial relationship with his fans through his website and blog and is a member of the Science Fiction & Fantasy Writers of America.