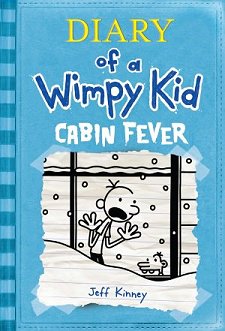 Cabin Fever (Diary of a Wimpy Kid Series #6)
by Jeff Kinney
Summary
Greg Heffley is in big trouble. School property has been damaged, and Greg is the prime suspect. But the crazy thing is, he's innocent. Or at least sort of.
The authorities are closing in, but when a surprise blizzard hits, the Heffley family is trapped indoors. Greg knows that when the snow melts he's going to have to face the music, but could any punishment be worse than being stuck inside with your family for the holidays?
"Cabin Fever is about the Heffley family being snowed in for the holidays and the claustrophobia that it creates... The idea behind the book is that as you're growing up, you're forging your identity, and that identity becomes hard to escape later on... Part of the book is about the claustrophobia of your identity—It's hard to forge a new one," says author Jeff Kinney in an interview with Entertainment Weekly.
About the Author
Jeff Kinney is an online game developer and designer, and the author of the New York Times bestselling Diary of a Wimpy Kid series. He spent his childhood in the Washington, D.C., area.