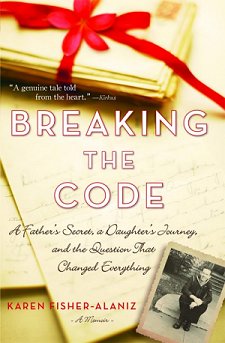 Breaking the Code: A Father's Secret, a Daughter's Journey, and the Question That Changed Everything
by Karen Fisher-Alaniz
Summary
Debut memoirist Fisher-Alaniz offers a sensitive account of how she helped her war-veteran father confront a traumatic memory he had carried with him for more than 50 years.
On his 81st birthday, without explanation, Karen Alaniz's father placed two weathered notebooks on her lap. Inside were more than 400 pages of letters he'd written to his parents during WWII. She began reading them, and the more she read, the more she discovered about the man she never knew and the secret role he played in WWII.
They began to meet for lunch every week, for her to ask him questions, and him to provide the answers. And with painful memories now at the forefront of his thoughts, her father began to suffer, making their meetings as much about healing as discovery. Thus began an unintended journey—one taken by a father and daughter who thought they knew each other—as they became newly bound in ways that transcended age and time.
Karen knew her father had served in the Navy and believed he had spent his days working in an office. "She did not know that he had been trained to copy Katakana, the code the Japanese military had used to communicate top-secret information. Her father could never speak of his work to outsiders because "anyone could be a spy." In March 1945, Karen's father and a fellow code breaker were sent to Okinawa; the fellow code breaker and friend did not return. Fisher's grief and guilt were so intense that he suffered a temporary breakdown.
This story of an adult child learning to understand a parent she thought she knew is simple and unpretentious, and commendable, breaking the silence surrounding PTSD. "Whether the veteran returned from war sixty years ago or six days ago," she writes, "one thing remains constant: it's time for us to talk and to listen."
Praise
"a genuine tale told from the heart." — Kirkus Reviews
About the Author
Karen Alaniz is an author and writer, who began the journey of writing this memoir when her father handed her a collection of letters on his 81st birthday. She lives in Walla Walla, WA. Visit her web site, blog and story forum at http://www.storymatters2.com.

Buy Breaking the Code: A Father's Secret, a Daughter's Journey, and the Question That Changed Everything - $14.99