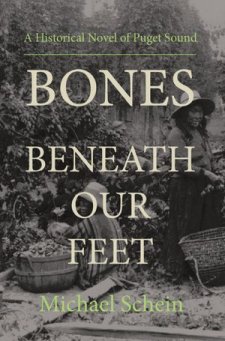 Bones Beneath Our Feet: A Historical Novel of Puget Sound
by Michael Schein
Summary
Bones Beneath Our Feet is the moving fictionalized but historically-based epic of the conquest of Puget Sound by the "Boston" tribe. This is lyrical fiction deeply rooted in the people and events that made our history. Focused on the period from 1844-1858, Bones Beneath Our Feet explodes with political intrigue, stormy intermarriage, misunderstanding and fear, sudden massacres, tender mercies, greed and sacrifice, trials of law and of spirit, open warfare and martial law, funerals and tears.
Isaac Stevens, the first territorial governor of Washington, aimed ruthlessly and single-mindedly to claim as much land as possible along Puget Sound for whites moving west. Nisqually leader Leschi objected to Stevens's heavy-handed techniques; when Stevens became more dictatorial, Chief Leschi's opposition eventually moved to armed resistance. When Leschi finally surrendered, he was charged with a murder he did not commit.
The Puget Sound War of 1855 ended with a major miscarriage of justice: the execution of Leschi, chief of the Nisqually Indians. Finally in the past decade, 2004, Leschi's name was cleared by a special Historical Court of Inquiry headed by the Chief Justice of the Washington Supreme Court.
Bones Beneath Our Feet resonates with political intrigue, tenderness and betrayal, misunderstanding and fear, greed and sacrifice. The gravestone of Chief Leschi, leader of the Native cause, reads: "Judicially Murdered Feb. 19, 1858." Behind these few words lies an essential story for all who are passionate about tolerance, dignity and liberty.
Praise
"[A] lyrical work of fiction...Schein tells his story with passion and feeling." — Auburn Reporter
"Michael Schein's novel, Bones Beneath Our Feet, does for the Pacific Northwest what Nathaniel Philbrick did for the East Coast in Mayflower." — Sheila Deeth, Gather.com Review
"One of the best historical novels I've read yet. The characters engaged me from the beginning. I learned so much about this area of the country. You must read this book. I still see the boy trying to keep his disturbed mother from jumping out her bedroom window. Excellent book." — Ann Hite, Goodreads.com
"If you live in the Puget Sound area this is a must read...The characters and scenery are so well written." — Nancy Cheryl's Book Nook Blog
"Bones Beneath Our Feet is a complex, nuanced, revisionist epic with a massive cast of characters, pitched battles, reversals, small acts of human tenderness, and a climactic court scene. Characters seem both larger-than-life and humanely familiar." — Karl Wolff, Driftless Area Review
"A powerful and deeply moving historical novel about the conquest of the Puget Sound area.... Based on research of the actual historical record, the story brings alive the struggles for justice by Chief Leschi and the Nisqually tribe who were being cheated out of their land by the infamous Governor Isaac Stevens. This story is a gripping one and beautifully written with vivid descriptions of the landscape that we all love. The characters, both historical and created, come alive as they fight and love throughout this big book. I especially loved his descriptions of the culture of the indigenous people... I highly recommend Bones Beneath Our Feet to all who love the land and its history as well as those who love a damn good story with fine writing." — J. Glenn Evans, author of Broker Jim and Zeke's Revenge
About the Author
Michael Schein is the author of Bones Beneath Our Feet and Just Deceits: A Historical Courtroom Mystery. He has taught both poetry and fiction at Port Townsend Writers Conference, and is Director of LitFUSE Poet's Workshop. His poems and stories are widely published in journals including Slow Trains, Chrysanthemum, The Ledge, Pontoon, American Drivel Review, Elysian Fields, RockSaltPlum, Runes, Lilies & Cannonballs, Drash, The November 3rd Club, Floating Bridge Review, Chest, and in the anthology The Art of Bicycling. Michael has lived in the Ballard neighborhood of Seattle for over 20 years, where he has raised two daughters and a glaring of cats with his wife Carol, a Feldenkrais practitioner.

Buy Bones Beneath Our Feet: A Historical Novel of Puget Sound - $16.95