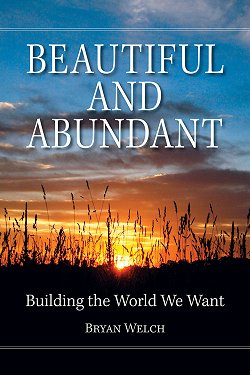 Beautiful and Abundant
by Bryan Welch
Summary
Humanity is at a turning point. We face the definitive human challenge – sustaining our quality of life on this miraculous, but finite, sphere we call Earth.
Tragically, too much human energy is squandered in conflict over short-term environmental obstacles. People debate symptoms and solutions but societies persistently fail to offer positive incentives for change. To harness the full power of human imagination and community initiative we need a positive vision for humanity's future. We need a believable collective vision for the beautiful, abundant planet where our grandchildren will live.
This groundbreaking book cuts through pessimism and denial, inviting readers to visualize a verdant and prosperous future for humanity and all the living things that share our planet. As a practical guide, it offers a process for making our current lifestyles more sustainable. Beautiful and Abundant inspires us to look beyond the immediate obstacles to nurture the "destination fixation" that stimulates all of humanity's greatest achievements.
Beautiful and Abundant received the Silver Nautilus Award for Social Change in 2011.
Praise
"In his compelling book Beautiful and Abundant, Bryan Welch challenges us to reframe our most pressing environmental challenges into a transformative, equitable vision of the future. His rich blend of practical strategies, poetic narrative, and deep curiosity will engage and inspire anyone intent on living a better life today—and creating a sustainable legacy for generations to come." — P. Simran Sethi, Emmy award-winning journalist and Associate Professor of Journalism, University of Kansas
"That rare book about crisis in the natural world that does not despair—it is instead victoriously hopeful. This is a reverent story about the power of nature—and humanity—to prevail." — Amanda Little, author of Power Trip: From Oil Wells to Solar Cells
"a fascinating and unconventional look at what true sustainability is all about." — Deb Nelson, Executive Director of the Social Venture Network
"invites us all to cut through the negativity...nuanced, eloquent and visionary. This luminous call to action will inspire you." — Wanda Urbanska, author of The Heart of Simple Living: 7 Paths to a Better Life
"A soulful, inspiring antidote...Grounded in reality and infused with hope, Beautiful and Abundant is nothing less than a transformational guide to how we might envision progress." — Allen Hershkowitz, Ph.D, senior scientist, Natural Resources Defense Council
About the Author
As a writer, farmer and media executive Bryan Welch is well known for his optimism, sense of humor and his commitment to empowering people to live their own versions of the good life. His work demonstrates unequivocally that it's possible to do well in business without destroying natural or human resources.
Before starting Ogden Publications (publishers of Mother Earth News, Natural Home & Garden, Utne Reader and other media), Welch worked at newspapers in several states. Welch holds a master's degree from Harvard University and serves on the boards of directors of the Social Venture Network and the Down Home Ranch Foundation. He and his wife raise grass-fed cattle, sheep, goats and free-range chickens at the farm they call Rancho Cappuccino, which they also share with donkeys, dogs and the rogue mule, Zero.