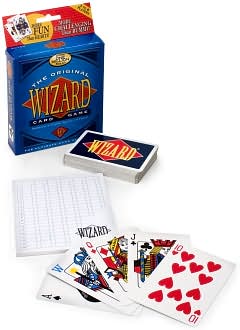 It's like Hearts and Whist - with a twist!
Winner of Games Magazine's Games 100, Wizards is the ultimate trump game—and a great deal.
Wizards Card Game builds strategy, planning ahead, a touch of deviousness ... and the agonies and ecstasies of the family card table.
At the start of each hand, players bid the number of tricks they think they'll take, losing points for being either over or under their bid. Wizards always win! Jesters always lose, but they're just as important as Wizards: they can get you out of the lead when you don't want any more tricks, or when you want to save sensitive cards for later.
As Games Magazine said in their glowing review, "Probably the most addictive family activity since eating... there's quite a lot of strategy and hard thinking in this hugely enjoyable game.
The deck contains 60 cards. English, Spanish and French Instructions. For 3 to 6 players. Recommended for ages 10 and up.