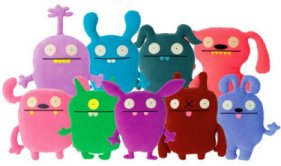 Plush, cuddly, kid-friendly UGLYDOLLS.
What's with the "ugly?" Think playful, free-form— a blended, multi-cultural aesthetic that balances traditional cuteness with bold individualism. Decide for yourself whether they're ugly or adorable. What's certain is that they've won the prestigious "toy of the year" award.
The first ugly emerged from the creative minds of two love-struck artists: David Horvath and Sun-Min Kim. What started as a drawing of a playful orange character has turned into a whole new world of fun! In 2001, when David's soon to be wife and creative partner Sun-Min had to return to Korea, he sent her many "I miss you" letters with this little orange creature drawn at the bottom.
Sun-Min sewed the creature into a plush doll and sent him to David as a surprise gift. And the rest is history: Toy of the Year and a whole Uglyverse of creations!
---
Citizen #1-Brad Luck

Brad is one lucky guy. Well for starters you're reading his tag. What a lucky break! The next thing you know, you guys will be sitting across from each other sending text messages to other people far away, just like they do in the movies! Horray for Hollywood! He's also lucky because you know how silly that sounds.
CITIZENS OF THE UGLYVERSE ARE APPROX 10" TALL
FOR ALL AGES

---

Citizen #2-Nopy

Nopy is small. Nopy is tiny. Nopy is a wee lad. Nopy is HUGE! That's right! He may be small on the outside, but has big things going on on the inside! Big dreams, big ideas, and big plan for the two of you. You're into being a part of something big, right? Well then follow little Nopy. He'll make it happen for you. Big time!
CITIZENS OF THE UGLYVERSE ARE APPROX 10" TALL
FOR ALL AGES

---

Citizen #3-Meetso

Meetso is a socialite. He likes being with the "in" crowd. Obviously you're in the "in" crowd by the looks of your selection in fashion. To him, everyone is "in" as long as they feel they are. Oh and forget the text message stuff, if possible Meetso would like to meet your buddies in person. Text messages never have snacks to share, right?
CITIZENS OF THE UGLYVERSE ARE APPROX 10" TALL
FOR ALL AGES

---

Citizen #4-Quippy

Quippy is a very happy girl. She brings a smile with her everywhere she goes. OK so she smiles on the inside, but just being around her makes everyone feel joy, with little rainbows coming out and hearts pouring out of all 3 eyes. Wait, that's gross. Anyway, yay, she's one happy girl.
CITIZENS OF THE UGLYVERSE ARE APPROX 10" TALL
FOR ALL AGES

---

Citizen #5-Querit

Querit is a middle of the road sort of fella. Not too hot, not too cold. Not too spicy, not too much ice. Well that's during the week. On the weekend, Querit is a case of dynamite! One minute he's considering signing up for the gym, and the very next thing you know, KAPLOW!...he's playing role playing RPG games in the basement! Wild! CITIZENS OF THE UGLYVERSE ARE APPROX 10" TALL FOR ALL AGES
CITIZENS OF THE UGLYVERSE ARE APPROX 10" TALL
FOR ALL AGES

---

Citizen #6-Sour Corn

To be honest, Sour Corn isn't a miss goodie two shoes. She's more like get out of my way no shoes. But if you keep it real, she's going to be on your side. But what does keep it real mean? It might mean be yourself and don't be influenced by the stuff on TV and all that, or it may just be the opposite of keeping it fake. Keeping it fake is not the way to go. Sour Corn likes you, you've passed.
CITIZENS OF THE UGLYVERSE ARE APPROX 10" TALL
FOR ALL AGES