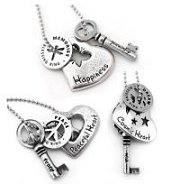 When the artisans at Whitney Howard Designs created Blessing Rings, they were eager to create an object that could touch lives—something that would be beyond an item you could hold. As a result, Blessing Rings are used in a variety of ways; they're kept in pockets, carried with keys, even worn on a chain... which brings us to the newest and most distinctive item of all. These creative designers have created the unique Story Necklace. Every lovely and stylish Story Necklace is made of 100% pewter and includes a Blessing Ring, an artisan styled Heart, and an antique style Key—each etched with words of inspiration and all are combined together on a chain to tell a story.
Blessing Rings, Keys, and Hearts follow are etched with inspirational words and themes such as:
| | |
| --- | --- |
| | Happiness |
| | Success |
| | Friendship |
| | Peace |
| | Guidance |
| | Faith |
| | Healing |
| | Angels |
| | Gratitude |
| | New beginnings |
| | Harmony |
| | Journey |
| | Hope |
| | Family |
| | Love |
| | And so many more - combined together, a story is told! |
Perhaps your Blessing Ring will signify Dreams; your Heart, the Cosmos; and the Key, a Wish... Your story could be a sign of dreams coming true! What a lovely way to wear your hopes and dreams near to your heart!
We expect a high demand for these charming new pieces, but putting together specific stories is unfortunately impractical so to bring these beautiful fall fashions to you, ABFAS has created an exciting opportunity - if you would like to purchase one of these beautiful Story Necklaces, just click on the link below and let the Universe decide which Story Necklace belongs to you!
Here's a chance to purchase something quite extraordinary in a new and unique way and in return, you will receive something lovely that will tell a story! If you allow us to select and send your Story Necklace to you and it brings you joy, then surely it was destined to be yours!
Lead Free
Made in the USA
100% Pewter
Great fall Fashion!
Great Gift Idea!
What's Your Story?
Have Some Fun - Take a Chance and let the Universe Decide!
And then, enjoy wearing your lovely, new Story Necklace!