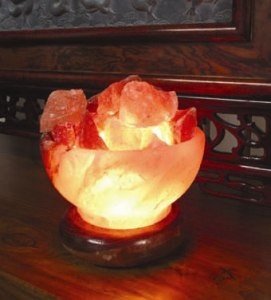 Improve the air quality, well-being, and health in your home with Himalayan Salt.
When warmed, ancient Himalayan salt improves air quality by enriching negative ions. Life in the 21st century can be stressful to mind, body, and spirit. Surround yourself with the elegant healing energy of Crystal Salt lamps and candle lamps. Each rock salt sculpture is a testament to the beauty and mystery of the Himalayan Mountains, glowing warm with pinks, ambers and oranges.
Give your body the relaxed feeling of a day at the beach, where a fresh breeze surrounds you with negative ions. Like the salty ocean air, our salt rock lamp and natural salt candle holder will help you ease into an alpha state, completely in the moment and undistracted by the stress of the day.
Use Himalayan salt products to enhance meditation and prayer. In bedrooms, baby rooms, and hallways, create a tranquil, cozy atmosphere. Cleanse air naturally for allergen sufferers, or improve air quality around smokers. Place a salt lamp near your computer to reduce fatigue, improve concentration, and mitigate EMF (electro-magnetic pollution).
A salt lamp in your massage space creates a calming, refreshing environment. Place salt lamps at feng shui points in your home to enhance chi; a lamp in the relationship corner will be greatly beneficial.
Indigenous Himalayans have harnessed salt crystals' healing, restorative powers for generations. The power is now available to you.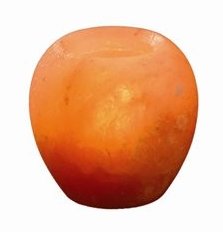 The Natural Salt Candle Holder is made entirely from natural salt crystal, hand-mined with environmentally friendly methods in the foothills of the Himalayan Mountains. Place any tea light candle inside. As it warms, it will naturally release negative ions that purify the air while adding beauty and ambience. $12.99

Buy The Natural Salt Candle Holder - $12.99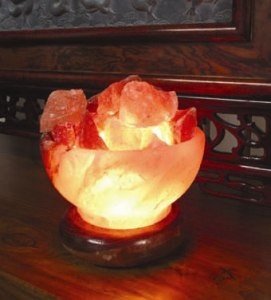 The Bowl With Salt Rocks Lamp is crafted from natural salt, environmentally mined in the Himalayas. Glowing with a soft, clean, ambered light, the lamp slowly releases negative ions, cleansing the air of allergens and odors, and enhancing alpha energy, meditation, concentration, and tranquility. $44.99

Buy The Bowl With Salt Rocks Lamp - $44.99