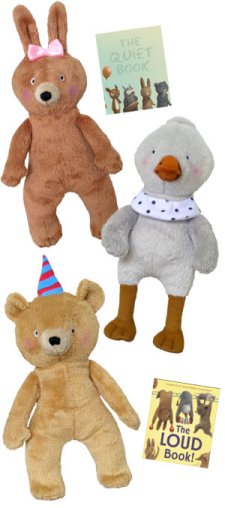 Quiet Book/ Loud Book Doll Trio
Our sweet trio of dolls makes the perfect gift for new parents, or for little children who need a few snuggly friends to take along when it's time to go to sleep. You'll also find these animals on the pages of award-winning The Quiet Book and The Loud Book!
Award-winning The Quiet Book and The Loud Book, by best-selling Deborah Underwood and illustrator Renata Liwska, explore, with charm and humor, the quiet and loud moments that fill a child's day.
Plush friends are each eight inches tall. Safe for all ages, perfect for ages newborn to 6
Trio of 3 plush dolls (Rabbit, Duck, and Bear), $25.00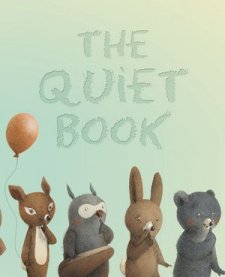 The Quiet Book
by Deborah Underwood and Renata Liwska
There are many kinds of quiet: Quiet can be delicate. Quiet can be thundering! Quiet can be sweet, and cozy, and can most definitely help you fall asleep. With kid-centric descriptions and irresistible artwork, this gentle picture book explores all the different quiets that can fill a child' days from morning to night.
This delightful book has been showered with awards including: ALA Notable Children's Book, New York Times bestseller, CCBC Choices, NCTE Notable Children's Trade Book, New York Times Notable Book, Publishers Weekly Best Book of the Year, and School Library Journal Best Book of the Year.
"this treasure of a book—which is appropriately gentle in both its understated text and artwork—catalogues many sorts of quiet that readers will recognize instantly. Some are lovely ('First one awake quiet'; 'Lollipop quiet'); some less so ('First look at your new hairstyle quiet'); and some are out-and-out problems ('Thinking of a good reason you were drawing on the wall quiet'). Throughout, Liwska's subtly engaging illustrations, single-page vignettes in muted rusts, greens, and browns, imagine a community of young, delicately furred animals who ably reflect the emotions that each type of quiet elicits. A young moose's antlers peek provocatively from behind a swiveling office chair ('Hide-and-seek quiet'); a bear holds its paw over its eyes as a nurse prepares a hypodermic ('Pretending you're invisible quiet'); and an owl looks upwards with awe and clasps its wing to its chest ('First snowfall quiet'). Underwood's taxonomy of quiet will evoke soft smiles from listeners who are getting ready for 'bedtime kiss' quiet (and possibly, even later, for 'What flashlight?' quiet)." — Publishers Weekly
"This gentle picture book subtly explores the many different kinds of 'quiet....A delightful and enchanting choice for storytime or sharing one-on-one." — School Library Journal starred review
"The most moving scenes leave space for imagining. 'Best friends don't need to talk,' for example, is illustrated with a blissful scene of togetherness that children will relate to their own lives." — Booklist
"This gallery of quietude works for bedtime or calming down while also acknowledging that some quiet moods are less than happy...The final sequence—a nighttime car ride in the snow, peaceful steps to bedtime—makes a comforting end. Liwska colors her finely hatched pencil drawings with low-value, low-intensity hues, matching the theme of low aural volume with a muted but detailed visual quality that invites a close look. Soothing and layered." — Kirkus Review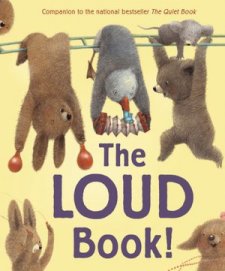 The Loud Book!
by Deborah Underwood
"this sequel to The Quiet Book stars the same gang of fuzzy creatures and is every bit as charming. Many of the 'louds' are found in school — there's 'WALKING-TO-SCHOOL SONG LOUD' and 'BURP DURING QUIET TIME LOUD.' Playful details abound; the bowling bear who makes a strike ('GOOD CRASH LOUD') in one panel is seen bowling on a fuzzy TV screen in the next. A father rabbit who's watching TV hears a dreadful noise in the kitchen ('BAD CRASH LOUD'); careful inspection reveals that the small rabbit sitting on top of the television is reading The Quiet Book. Liwska's artwork, as always, is noteworthy for its depth and warmth. The expressions on the faces of her animals convey community, even intimacy; they often appear to have been deep in conversation just before being interrupted by a deafening crash. Fans of the first book will be delighted to extend their bedtime reading time with the second, and they'll welcome the chance to pump up the volume." — Publishers Weekly