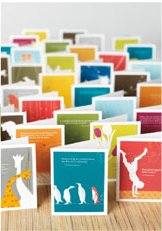 Positively green Greeting Cards!
In this day of emails and text messages, what a pleasure it is to receive a birthday card or a handwritten note on a thank-you card. With a greeting card, you can connect to someone and give it a personal touch. Cards connect us in times of sorrow and in times of great joy. They connect us when we just want to tell someone how much they mean to us or maybe when we want to say "hey, lean on me".
We're excited about a new line of cards coming to A Book for All Seasons. These cards not only connect us in the traditional sense, but would you believe we've found a line of cards that can connect us closer to the earth?
Positively green Cards by Compendium, are an environmentally friendly line of 48 unique, all-occasion greeting cards. The designs range from beautiful to whimsical and the sentiments are warm and thought-provoking. If that were all, they would seem to have everything that you want in a card, and yet that's only the beginning! Each card is made using materials and processes that leave the lightest environmental footprint possible.
You've truly not seen anything like this. Just look at the earth-friendly advantages of buying Positively green Cards:
10% of the profits of Positively green card sales go to non-profit organizations that are actively helping the planet.
The back of each card features a simple tip on how we can all leave a lighter environmental footprint through our everyday actions.
The cards are printed using non-hazardous soy-based inks rather than petroleum-based inks.
The paper and envelopes are made with 100% post-consumer recycled paper and chlorine-free processing. The paper is certified by the Forest Stewardship Council, an organization that ecologically and responsibily manages worldwide forests for sustainability, biodiversity and productivity.
Their local printer purchases wind-powered electricity for production.
Cards are shipped with minimal packaging for displays and are bound by a thin strip of recycled paper for reorders.
Their custom-designed display shelves are made from recycled scrap metal that is powder coated, the most eco-friendly way to "paint".
Lovingly hand-rendered, using the finest recycled materials, these cards show that purchasing a sustainable product doesn't have to mean sacrificing quality, style or sentiment.
We love to find new product lines that are unique as well as worthwhile and these cards truly hit the mark. All of us are thrilled about these beautiful and endearing, eco-friendly cards. And best of all, these cards are only $2.95 each! The same price, if not less, than most other greeting cards you'll find on the market today! We hope you'll come by to check them out!
We offer three choices online (see below) or stop by at our bookstore and pick up a couple of Positively green Cards and Make A Connection!
Positively Green - Blessed is the influence
Blessed is the influence of one true, loving human soul to another. - George Eliot
Inside: You are a blessing.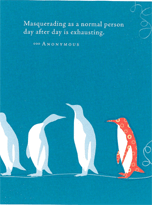 Positively Green - Masquerading as a
Masquerading as a normal person day after day is exhausting. - Anonymous
Inside: Be you on your birthday.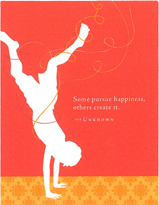 Positively Green - Some pursue happiness
Some pursue happiness, others create it. - Unknown
Inside - You are an inspiration