Award-winning Mark-My-Time Digital Bookmark Now Available With Reading Light!
There's no other product quite like it! Now you can accurately track children's required reading times to help take the work out of daily reading homework.
Named "Best New Product of 2004" by BookExpo America its fun colors and electronic functions encourage kids to make reading a daily habit. And for parents, it's just a touch of a button, and the electronic timer is set to monitor how long a child reads.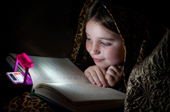 Made of durable polyethylene, slim and compact, it fits neatly between the pages of any book.
At the top is a digital clock that's powered by a replaceable watch battery. Choose to set a countdown timer with alarm that alerts readers when they have completed their required reading time or set the cumulative timer which stores time over multiple reading sessions until the reader chooses to delete it.
Also ideal for timing music practice sessions, timed math fact activities, meetings, homework study sessions, cooking and interval training when exercising.
Parents and teachers from across the country confirm that the mark-my-time digital bookmark is the best and easiest way to monitor reading time and keep kids excited about reading so they'll want to read more.
3 LED book light
Count down timer with alarm
Cumulative timer that stores up to 100 hours
Integrated page clip
60 second fluency timer
Replaceable batteries included
Buy Mark-My-TimeTM Digital Bookmark with Reading Light in Green camouflage - $14.95
Buy Mark-My-TimeTM Digital Bookmark with Reading Light in Blue camouflage - $14.95
Buy Mark-My-TimeTM Digital Bookmark with Reading Light in Pink camouflage - $14.95