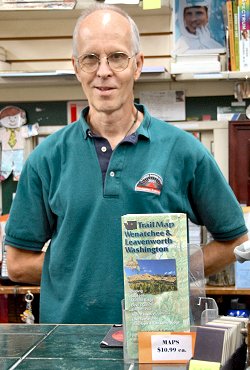 New at ABFAS - The Perfect Trail Map!
Dave, one of our resident hikers here at ABFAS will tell you that before you head out on your next adventure, you should make us your first stop and pick up one of these fantastic new Trail Maps of the Wenatchee & Leavenworth area, created by Adventure Maps!
Not only does Adventure Maps use a unique combination of GIS data from a variety of sources along with graphic design software to create an accurate, easy to read and visually pleasing map, but each of the trails on this map have either been researched, hiked, or ridden by the folks at Adventure Maps. The descriptions, details, and overall view provided by this map will help you to plan the perfect day of riding hiking or skiing and get home safely.
Both waterproof and tear resistant, you'll use this map time and time again!
This map includes trail descriptions and ratings, latitude/longitude & UTM grids. The areas covered are Wenatchee, Leavenworth, Sage Hills, Mission Ridge, Devil's Gulch, Blewitt Pass, Alpine Lakes Wilderness, Lake Wenatchee, Mad River, & Chickamin Ridge.
Get yours today before you head out on your next adventure!