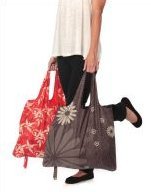 No More Plastic Grocery Sacks!
More and more people are making the move to eco-friendly, reusable bags for their shopping. Most of us recognize this as the "right thing to do" for the environment, but we often forget to bring the bags, or just find it a hassle a drag them along. Well, no more! Eco-friendly AND stylish, Envirosax reusable shopping bags are here!
We've found a line of environmentally friendly bags that are stylish and inexpensive; lightweight and durable; and they roll up small enough to stow in your glove-box or handbag! The problem of forgetting your green bags has been solved! It's so easy to pop one of these little, 1.4 ounce lightweight and compact packages into your purse or car that when a larger shopping trip comes along, multiple bags are no extra hassle!
A selection of styles is available, but everyone who sees your Envirosax bags will want one too so better get yours while the gettin' is good!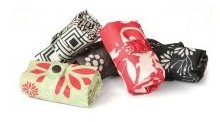 Here are the facts:

They are extremely lightweight, which allow the bag to be rolled up into a very compact package. This encourages people to carry them with them, which increases re-use.
The print will never fade and the bag will look good for its whole lifetime
It is highly durable, which means each Envirosax will last for years.
An Envirosax is superior in strength and design. Holding up to 40 pounds, it beats your average polypropylene green bag.
Envirosax are affordable for anyone, which will help spread the message of re-use to people of all incomes.
There are more reusable bags on the market than ever before. Make sure you're buying an original Envirosax! Look for the Envirosax logo on the bag or on the swing tag and you'll know that you have purchased the strongest, most fashionable, and most compact reusable bag available. You'll also have confidence that you are supporting a company whose green philosophy and philanthropy has paved the way since 2004.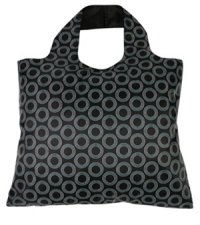 Envirosax Monochromatic – For an understated flair that is not narrative, thematic or gender specific. Stylish men and women intuitively know what black and white can still do. Strong, uncomplicated, uncompromising, unmistakable...
Buy Envirosax Bag - Monochromatic Color #4 - $8.50
Envirosax Mikado - Inspired by ornate but simple Japanese style, carry the exquisite beauty of Mikado!

Buy Envirosax Bag - Mikado Color #1 - $8.50

Buy Envirosax Bag - Mikado Color #3 - $8.50

Buy Envirosax Bag - Mikado Color #5 - $8.50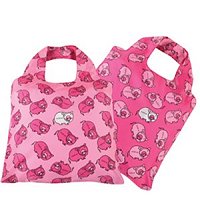 Envirosax Piggy in the Middle - Educate the next generation in the responsible re-use of bags! Envirosax Kids will help tomorrow's future move in the right direction.
These great "Piggy in the Middle" bags will be fun for any kid for any purpose! Whether they are using them to just haul around their stuff or using them for their own shopping, these are super handy eco-bags!