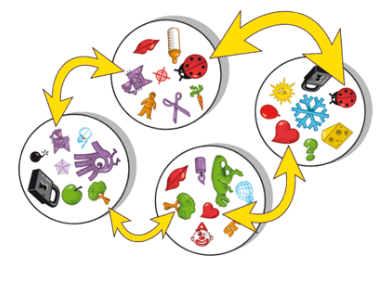 BlueOrange Games: Spot It!
There is always one and only one matching symbol between any two cards in this game. Spot it and you win! This little tin packs a lot of challenges. Its 55 cards offer five mini-party games in which all players play simultaneously in a fast-paced, fun atmosphere. With fast action and endless fun this unique card game engages both young and old alike.
Spot it! is made up of 57 symbols, 55 cards, with 8 symbols per card. Spot it! includes 4 quick games that can be played in any order. A sharp eye, quick reflexes and a little bit of speed is all it takes to become a Spot It! master!
Winner of numerous awards including: Oppenheim Toy Portfolio Best Toy Award Gold Seal, Parents' Choice Foundation Gold Award, Dr Toy10 Best Games and Best Vacation Children's Products, ASTRA Best Toy For Kids Gold Award, Major Fun Award, Learning Express Hottest Products, Canadian Toy Testing Council Children's Choice Award, and The National Parenting Center Seal of Approval.
Ages: 7 to Adult, 2 to 8 Players, $12.99
Read why Edplay Magazine picked Spot It! for "Best games for game night:"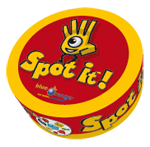 Buy BlueOrange Games: Spot It! - $12.99