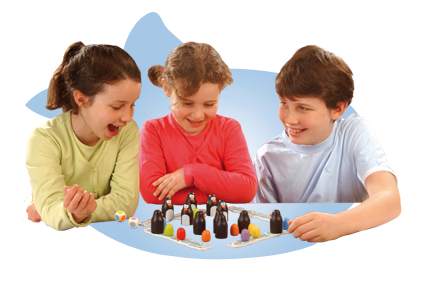 BlueOrange Games: Pengoloo
Take a trip to the South Pole with Pengoloo. Test your memory with these adorable wooden penguins. Roll the colored die, and with two chances per turn, look for the matching colored eggs under the penguins. The first to collect 6 penguin-egg pairs wins!
Winner of numerous awards including: Oppenheim Toy Portfolio Best Toy Award, National Parenting Publications Gold Award, Dr. Toy 10 Best Games Award, The National Parenting Center Seal of Approval, Parenting Magazine Mom-Tested Pick, Creative Child Preferred Choice Award, Parents' Choice Foundation Silver Honor Award, Canadian Toy Testing Council 3 Gold Stars (highest rating) and BEST BET Award, Teachers, Choice Award, Today's Parent Magazine Top Toy Guide, and Green Parents' List.
All-wooden and eco-friendly: Blue Orange plants two trees for every tree used in game construction.
Includes 12 penguins, 12 colored eggs, 4 icebergs, and two colored dice. Ages: 4 to Adult, 2 to 4 Players, $25.99
Click here to learn why Parenting Magazine chose this as one of their 25 Toys of the Year:

Buy BlueOrange Games: Pengoloo - $25.99