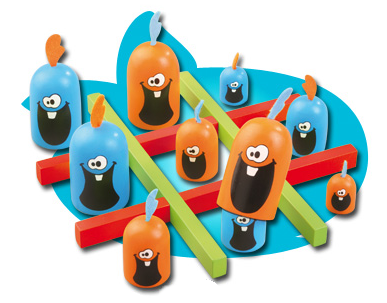 BlueOrange Games: Gobblet Gobblers
Gobble up some fun with Gobblet Gobblers. Line up three Gobblers in a row to win, but hurry: these cute characters are hungry for fun—and other Gobblers. Test your memory with this fast, easy to learn strategy game—perfect for the whole family!
Extreme tic-tac-toe: as you play you gobble up your challenger. But if you're going to move a piece be careful—are you sure you remember whether one of your opponent's pieces is hidden beneath?
Winner of numerous awards including Oppenheim Toy Portfolio Gold Seal, Major Fun Thinking Kids Award, Dr. Toy 10 Best Games, Creative Child Seal Of Excellence, Parents' Choice Foundation Gold Award, The National Parenting Center Seal of Approval, Green Parents' List, and Canadian Toy testing Council BEST BET Award.
All-wooden and eco-friendly: Blue Orange plants two trees for every tree used in game construction.
The perfect first strategy game for a youngster. For two players, ages 5 to adult. $19.99
Click here to learn why Family Fun Magazine chose Gobblet Gobblers for "Our favorite Things."

Buy BlueOrange Games: Gobblet Gobblers - $19.99