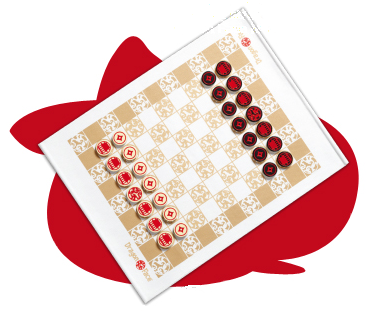 BlueOrange Games: Dragon Face
Enter into the fantasy world of Dragon Face, set several hundred years into the future, in a world divided into two empires.
Prepare yourself for an epic battle. Two camps confront each other, seeking to control the universe. Within each camp there is strong and weak, light and dark, war and peace. Your adversary holds the key to your victory. Come and discover the simple complexity of Dragon Face.
Each side has 1 Emperor, 6 Ambassadors, and 17 Governors that all move in different directions. Capture your opponent's piece by jumping over it: that piece is then turned upside down and becomes one of your own. The end goal is to capture the Emperor by locking it in.
Dragon Face is a beautifully designed game. Each dual-colored piece is engraved with attractive red designs and comes with a high-quality cotton mat that rolls up for easy storage. This attractive game can be left out on your coffee table, ready for a new match.
When you want a great strategy game to challenge the imagination, Dragon Face is it!
Ages: 8 to Adult, 2 Players, $29.99

Buy Go BlueOrange Games: Dragon Face - $29.99