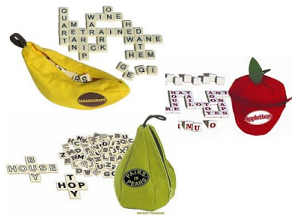 Beloved Bananagrams just grew new friends!
Build words with Bananagrams - choose an English or a Spanish version. And now you can add Appleletters and Pairs-in-Pears to your fruity game bowl to help children practice cognitive skills and memory, the alphabet, vocabulary and rhyming.
Bananagrams
Ages 7 and up.
This fast-moving word game consists of 144 ivory-like letter tiles in a zippered banana pouch. Players place the tiles face down on the table and randomly select 21 tiles. The players turn their letters right-side up simultaneously and proceed to form as many intersecting and interconnecting words as possible from their own letters, which can be rearranged as many times as desired throughout the game. This product received the 2009 TOTY Game of the YEAR award, the 2006 Oppenheim Toy Portfolio Gold Seal Award, the 2007 iParenting Media Award, the 2007 Parents' Choice Recommended Award, and the Dr. Toy 2007 Best Products Award.
Appleletters
Ages 5 and up.
This apple-shaped pouch with a soft, zip-closed top holds110 letter tiles that may be used to play three different games.
In Appleletters (two to six players ages 5 and up) players alternately add tiles to the first or last letter of a word in the middle of the table, creating a continuous "snake" of new words.
In Apple Turnover (two to four players ages 7 and up) each player begins with 21 tiles instead of nine, and may actually replace an opponent's word with a longer word. The goal is to be the first player to get rid of tiles.
In Applescore (two to four players ages 7 and up) players build words as long as possible in crossword-like fashion and get bonus points for length, palindromes and going out first.
Pairs-in-Pears
Ages 5 and up.
Complete with capital letter tiles featuring various designs (dots, lines, blank and solid), this game comes packaged in a zip-open, pear-shaped pouch with a hanging rope (stem) at the top. It is designed to help kids work on cognitive skills and memory, as well as the order of the alphabet, vocabulary and rhyming as they practice forming words.