Fri, Nov 16
7:00 - 9:00 PM
Barn Beach Reserve
Free

Cairns: Messengers in Stone with David B. Williams (Presentation)

Sat, Nov 17
1:00 - 3:00 PM
Bookstore
Free

David B. Williams joins our November Book Buzz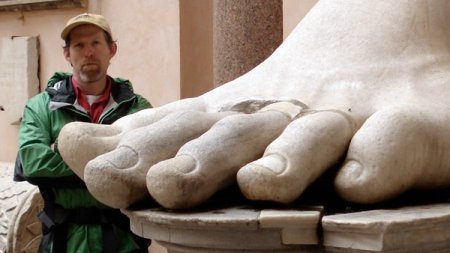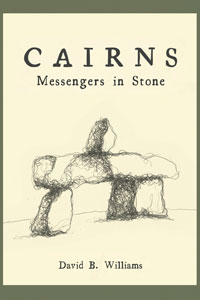 Cairns: Messengers in Stone
Part history, part folklore, part geology
Features charming black-and-white illustrations
From meadow trails to airy mountaintops and wide open desert, cairns—those seemingly random stacks of rocks—are surprisingly rich in stories and meaning. For thousands of years cairns have been used by people to connect to the landscape and communicate with others, and are often an essential guide to travelers. Cairns, man-made rock piles can indicate a trail, mark a grave, serve as an altar or shrine, reveal property boundaries or sacred hunting grounds, and even predict astronomical activity. The Inuit have more than two dozen terms to describe cairns and their uses!
In Cairns: Messengers in Stone, geologist and acclaimed nature writer David B. Williams (Stories in Stone: Travels through Urban Geology) explores the history of cairns from the moors of Scotland to the peaks of the Himalaya—where they come from, what they mean, why they're used, how to make cairns, and more. Cairns are so much more than a random pile of rocks, knowing how to make cairns can drastically alter the meaning of the formation. Hikers, climbers, travelers, gardeners, and nature buffs alike will delight in this quirky, captivating collection of stories about cairns.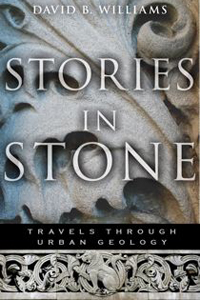 Stories in Stone: Travels Through Urban Geology
Within the fabric of every stone building is a wondrous story of geological origins, architectural aesthetics, and cultural history.
You probably don't expect to make geological finds along the sidewalks of a major city, but when natural history writer David B. Williams looks at the stone masonry, façades, and ornamentations of buildings, he sees a range of rocks equal to any assembled by plate tectonics. In Stories in Stone, he introduces us to a three-and-a-half-billion-year-old rock called Morton gneiss that is the color of swirled pink-and-black taffy; a 1935 gas station made of petrified wood; and a fort in St. Augustine, Florida, that has withstood three hundred years of attacks and hurricanes, despite being made of a stone (coquina) that has the consistency of a granola bar.
Williams shows us why a white, fossil-rich limestone from Indiana became the only building stone to be used in all fifty states; how the construction of the granite Bunker Hill Monument in 1825 led to America's first commercial railroad; and why Carrara marble—the favorite sculpting material of Michelangelo—warped so much after only nineteen years on a Chicago skyscraper that all forty-four thousand panels of the stone had to be replaced. From Brooklyn to Philadephia, from limestone to travertine, Stories in Stone will inspire readers to realize that, even in the most modern metropolis, evidence of our planet's natural wonders can be found all around us in building stones that are far less ordinary than we might think at first glance.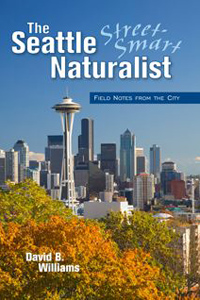 The Street Smart Naturalist: Field Notes from Seattle
Back to the city, or back to nature? Seattle author David B. Williams shows us how we can get the best of both. Botany and bugs, geology and geese, and creeks and crows; living in a major city doesn't have to separate us from the natural world. Stepping away from a guidebook format, Williams presents the reader with a series of essays and maps that weave personal musings, bits of humor, natural history observations, and scientific data into a multi-textured perspective of life in the city—descriptions of his journeys as a naturalist in an urban landscape. Williams addresses questions that an observant person asks in an urban environment. What did Seattle look like before Europeans got here? How does the area's geologic past affect us? Why have some animals thrived and other languished? How are we affected by the species with whom we share the urban environment and how do we affect them? This book captures all of the distinctive flavors of the Emerald City, urban and natural.
Praise for author David B. Williams
"Makes stones sing" — Kirkus Reviews
"Williams's lively mixture of hard science and piquant lore is sure to fire the readers' curiosity" — Publisher's Weekly
About the Author
David B. Williams is a freelance natural history writer and author of Cairns: Messengers in Stone, Stories in Stone: Travels Through Urban Geology, The Street-Smart Naturalist: Field Notes from Seattle, and A Naturalist's Guide to Canyon Country.
Williams is a Seattle native and has a Bachelor's degree in geology from Colorado College. He has worked as a Park Ranger at Arches National Park, in Moab, Utah, and the Frederick Law Olmsted National Historic Site, in Brookline, Massachusetts. For five years he was a program coordinator and field instructor for Canyonlands Field Institute, a non-profit educational organization based in Moab. At present he teaches educational programs part time at the Burke Museum of Natural History and Culture and periodically leads tours of building stones for groups such as North Cascades Institute and Seattle Architectural Foundation. He lives with his wife in Seattle's Wallingford neighborhood and blogs at Stories In Stone.
Visit his web site at http://geologywriter.com/.